About SDPS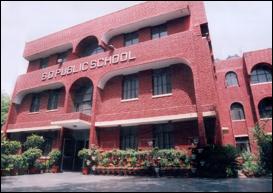 As one of the upcoming ideal educational institutions in West Delhi, S.D. Public School, Kirti Nagar was established in the year 1991. It is a co-educational English Medium Institution upto class X.
The school is recognized by the Directorate of Education, Govt. of N.C.T. of Delhi and affiliated to C.B.S.E.
School ID No – 1516111
Affiliation No – 2730236
School No – 65515
our philosophy
The educational philosophy of S.D. Public School is based on progressive outlook i.e., to provide wholesome quality education to the children, developing their different facets of life i.e.,mental, physical, cultural and spiritual. Emphasis is laid on discipline, moral education and duty consciousness.
location
It is situated on the Satguru Ram Singhji Marg, Kirti Nagar, New Delhi and has a magnificent, majestic building with three spacious grounds.